We have the numbers to prove it
For over 250 businesses, we've been the trusted partner in their Salesforce journey, consistently delivering value and fostering lasting relationships. Your success fuels our passion.
Projects Completed Monthly
Each month, we average around 11 projects, showcasing our commitment to efficiency, dedication, and the trust businesses place in our expertise. Consistency is our hallmark.
Average completion in just 40 days showcases our drive for swift, yet thorough, Salesforce solutions, ensuring you're up and running promptly.
Join the 250+ Customers Already Growing
These logos represent a snapshot of our customer portfolio.
"I was so impressed with the work Cloud Trailz completed. They migrated two Salesforce instances for us, and it was a pleasure working with Todd, Marcus and their team.
They were fun, professional and easy to work with. The project team worked across the globe with our team in India and the US, and the project was completed on time and at a fixed cost—no surprises! The quality of their work was 5 stars all around." 

Dave Gates
SR VP of Sales, Unifocus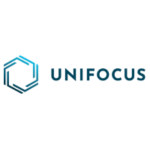 What our customers are saying
"We are a manufacturing and niche service company that worked with Cloud Trailz to get SalesForce Enterprise implemented. They used data from QuickBooks to set up our accounts and used that data to set up SalesForce Maps, territories and all of the company-specific categories we needed. I can't say enough about how knowledgeable and helpful they were. They completed everything they were tasked with within very tight timeframes. Their training with our staff was delivered patiently and thoroughly. They were quick to respond to our questions and other needs. In addition to everything else, the Cloud Trailz staff was extremely friendly and made us feel tremendously comfortable from beginning to end. Our staff was highly impressed and we would recommend Cloud Trailz for any project fulfillment that they offer. They are truly a "get it done" group."
"It was a pleasure to work with the CloudTrailz team on our Salesforce integration. With their very structured process, we were able to have clear discussions with the team around the functionality we wanted to build into our system and we always left each meeting with action items very clearly laid out for both our team and theirs. Even with their unique working structure of work weeks and meeting weeks, they were always available to answer questions surrounding the platform and walk us through any issues we had, fixing the problems as they came up. The final part of the integration was a very thorough training hosted by CloudTrailz for our entire team, during which they really made it a simple walkthrough for everyone in the room on how to utilize the platform."
"If you are looking to optimize your Salesforce usage, understanding, and efficiency, I would highly recommend working with the team at Cloudtrailz. The team was an absolute pleasure to work with. From the personalized plan they put in place, to the weekly meetings to review each piece of the project, they were always a step ahead. The team delivered on our expectations, on time, and within budget. The knowledge they possess was not only beneficial for our efficiencies, but also gave us new ideas in how to utilize Salesforce even better. We didn't feel like a number with Cloudtrailz. Their care for our success was evident from the beginning and their knowledge was unparalleled. We have worked with other Salesforce integrators, and nobody we have worked with in the past even holds a candle to the personalized service and efficiency in work pace as the Cloudtrailz team."
"Cloud Trailz was a great partner to work with over a 2+ year time frame as our sales strategy constantly evolved and developed. The Cloud Trailz team takes the time to understand your business needs and, specifically, help mold your CRM in a way to best support your sales organization. With needs arising on almost a daily basis, the team always worked efficiently and always with a fast and successful resolution. We really felt as if we had a highly experience Salesforce admin within our organization. I would highly recommend working with the Cloud Trailz team."
"Air structures American Technologies Inc. is a midsize American manufacturing company of air-supported structures. Our experience with Cloud Trailz has been nothing but outstanding. As the third-generation owner of the business, I looked to take it to the next level. To do so we needed to implement tools within the business that allowed us to leverage our tight-knit group of employees so we could reach a larger audience of customers more efficiently. Through our partnership with Cloud Trailz, we have had the opportunity to be able to truly utilize all the tools within Salesforce."