Has switching to lightning been scary or a potentially large effort? As a Lightning Champion, I'm here to set the record straight that it does not need to complicated to get to lightning. And how the benefits of adopting lightning today, outweigh the cons staying in classic.
In this session, presented at Southeast Dreamin' 19, I review best practices around:
-The most important reasons for switching to lightning now
-Where to start when planning about the migration to Lightning
-Different approaches your organization can take (Phased, Big Bang, Pilot, etc.)
-How to assemble your lightning adoption team
-How to talk like an adoption expert in your own organization to support the migration
-Places to not "Over-think" the configuration and set up for launch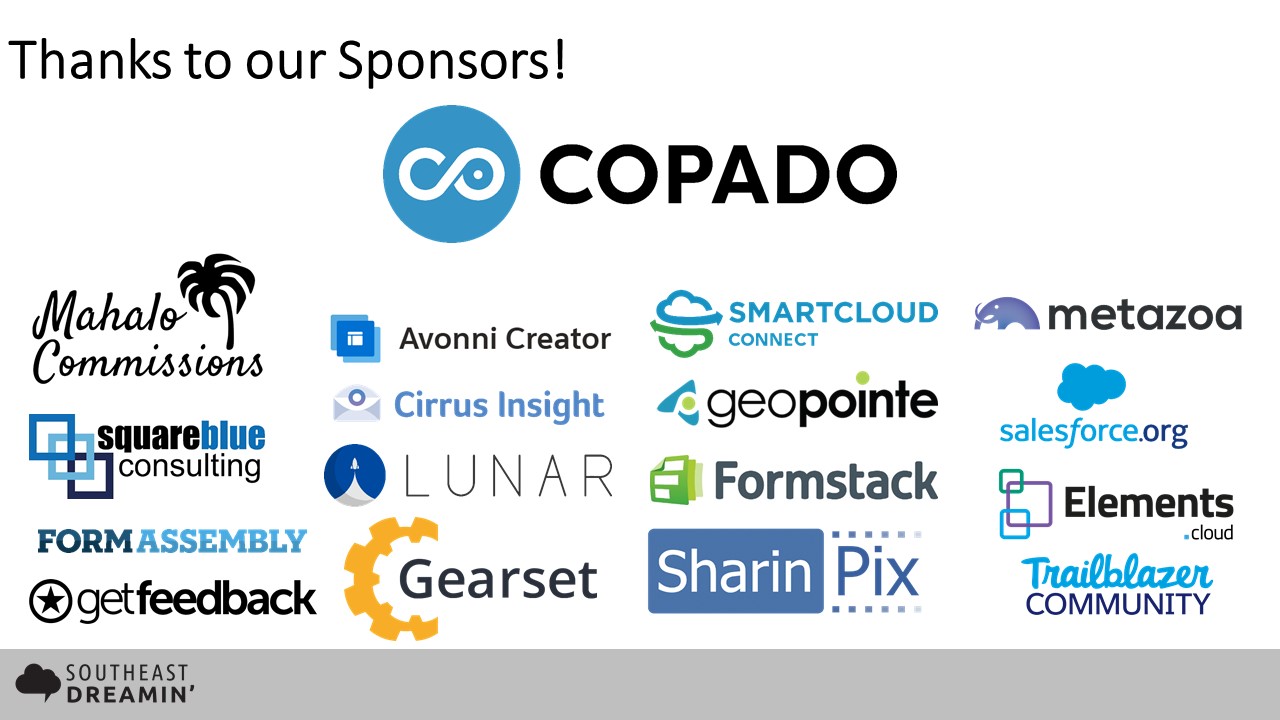 Thanks to all our sponsors who made SED19 and awesome conference!
This is Kansas. No, this is the start of your migration to Lightning, peaceful, calm, and exciting!
The reality for most who have not switched to LEX or fully adopted it is more like this …. doubt and fear appears. But it doesn't need to be! This should be an exciting transition for everyone and there are tons of features for users to benefit from.
The evolution of CRM and CRM experience mean that now is the time.
We were a Data entry type of world of CRM and it was reflective in Salesforce Classic. We wanted to be more productive, we wanted to make more people feel engaged.
That's where Lightning comes into play: efficiency driven workspaces, productivity oriented design, and the ability to quickly customize the experience for your users. Lightning makes using Salesforce more about hitting milestones and an assistant tool, and less about raw data entry.
Understanding your current environment is a critical first step in your transition to Lightning Experience.
For those who haven't seen it or if they haven't seen it in a while, this is Transition Assistant Section Under the Setup Menu. Salesforce is trying to make this as easy as possible now to transition to Lightning by giving you a step by step guide to walk through through three phases
Discovery
Roll Out
Optimize
The next thing you want to think about is what type of team is critical for a successful migration.
In the discover phase you're going to do 3 things:
Learn about switching to lightning – we talked about this briefly at the beginning
Evaluate LEX Benefits which we talked about but We're going to run a readiness report
Align with Executives and Stakeholders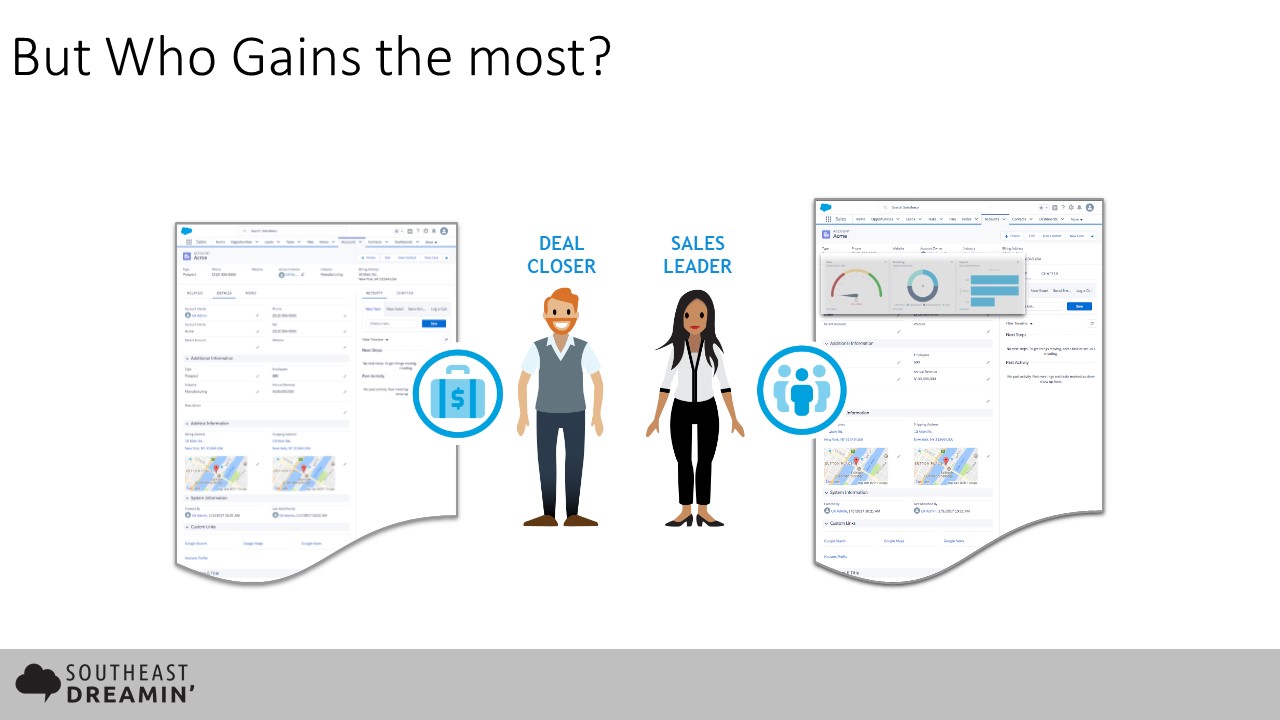 When figuring out where to start, identify the team or group that will benefit the most and start with them, whether that is sales, service, leadership, or another team in your business.
This is a great team to have in place, anytime you're looking to roll out functionality to your org.
This list doesn't mean your team of 5 people solves your problems. Sometimes 1 person fits 3 of these roles, sometimes you need multiple developments and multiple lines of business. Sometimes you need other roles not covered here.
However…Ultimately there are key project roles you'll need to be successful:
•Executive Sponsor: Helps provide strategic guidance, remove roadblocks and support budget and headcount requests.
•Business Leaders: Focus on the needs of the sales staff, process and how they measure success. It is important to understand the needs of the end-users as they exist today, not what the requirements where when you originally deployed Salesforce.
•Admin: In most companies the admin is the the intermediate between the business, developers and Salesforce. They should be able to see the strategic vision of the business, help align those priorities and drive the conversation around technical needs to the developer while identifying product gaps to Salesforce.
•Developer: It is important for us to arm the developer with the technical tools to develop the right solutions for the business, while ensuring that they understand the business requirement and the end-user needs to help build the right processes.
•Change Management: When we finally have the system read and we are going to communicate, train and roll out to the end users, we want to make sure that the Change Management team is ready to message not only the great new features, but how this will make your end-users more productive.
Your whole team needs to be… CHAMPIONS!
The goal is to ensure that your entire team is aligned around your company vision and that by connect the team to this vision you will achieve a greater result.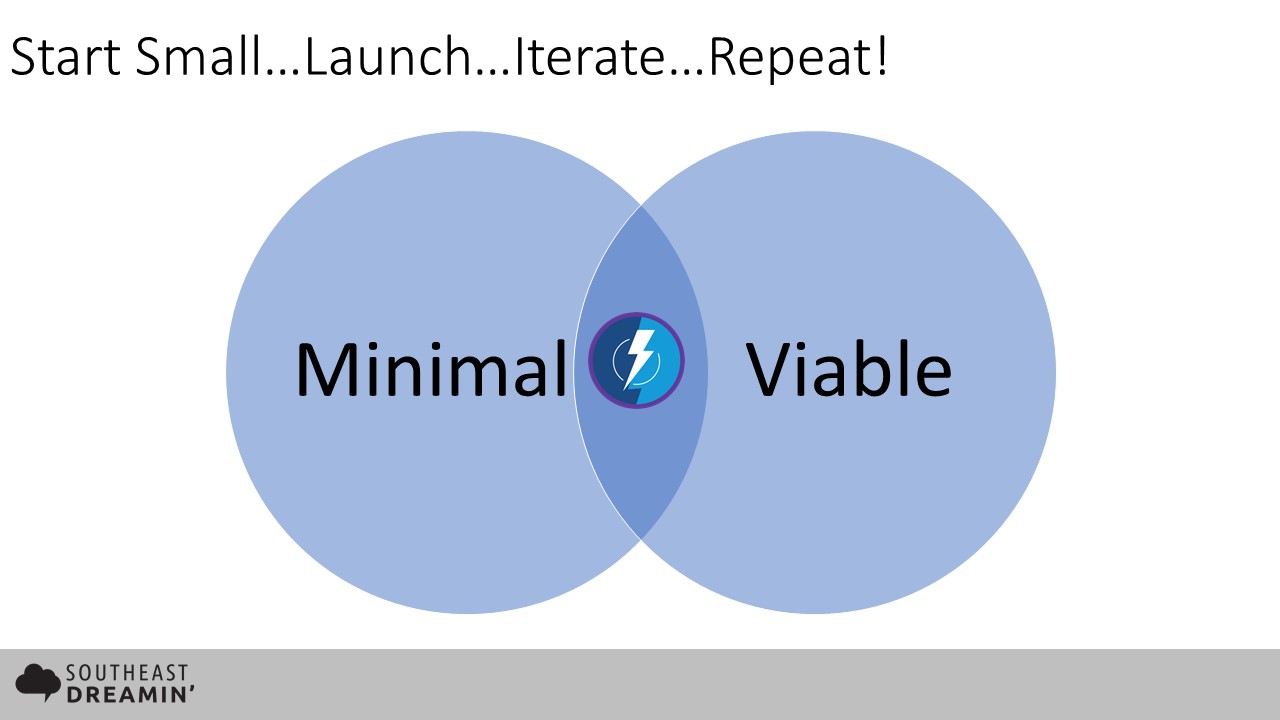 For the initial roll out of Lightning, focus on the minimal requirements for switching to be viable, measure the success, and continue to iterate and improve after the initial roll out.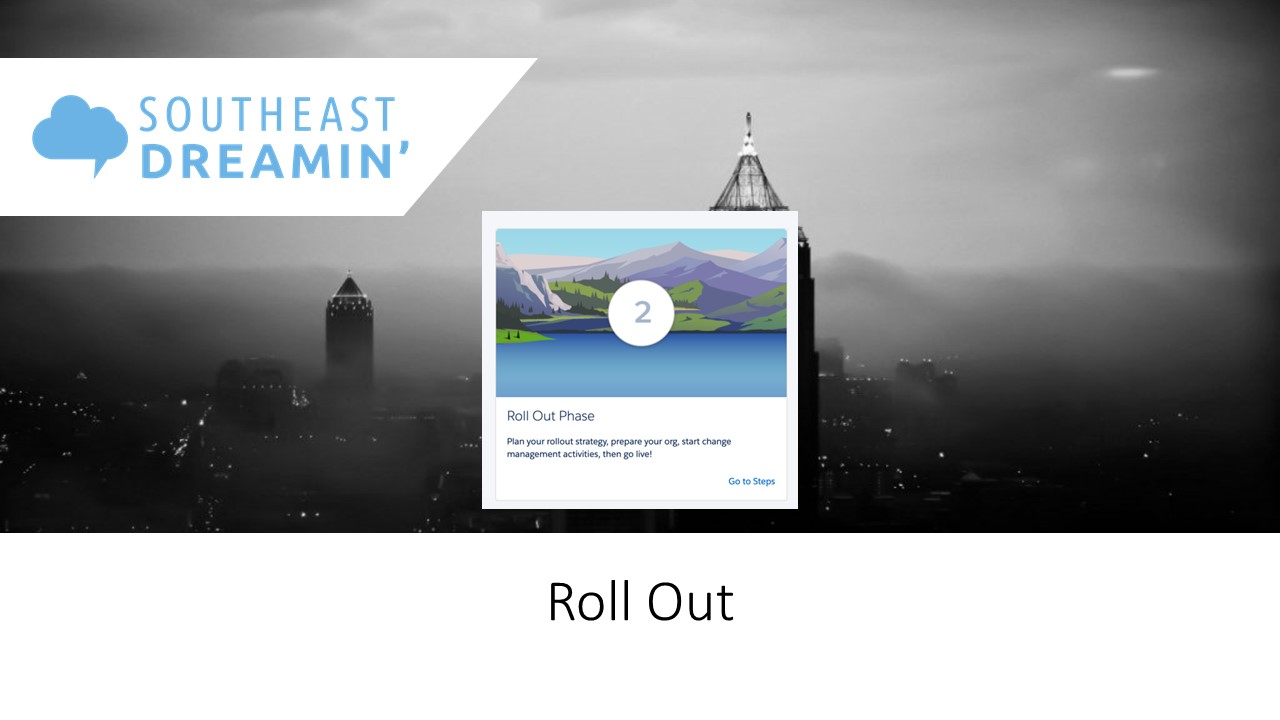 There isn't a single right way to roll out Lightning Experience. There are several variables to consider when deciding on a strategy—like the complexity of your implementation and the size of your Salesforce user base. But in most cases, you'll take one of these approaches: go all-in, switching your entire org at the same time, or transition your org gradually in phases.
To pick the best strategy for your org, let's look at the benefits and considerations for both approaches.
Org-Wide Rollout
With this approach, you enable Lightning Experience for all users in your org at the same time. On the surface, this may seem like the easiest, most straightforward way to structure your rollout. If your org configuration is simple and you don't have many Salesforce users, this method may make the most sense for you. But it also requires that you're highly confident that everyone gets what they need in the new interface and that everyone is prepared for the transition. And obviously, the need for advanced preparation has implications for how long it will take to get ready to flip the switch.
Phased Rollout
Unless your org is small, it can be advantageous to transition your users to Lightning Experience over the course of several phases. This approach allows you to tackle your business and technical requirements incrementally, and iterate on lessons learned. For each phase, pick teams or groups of users whose business needs are met by the current state of your Lightning Experience implementation. After launching a phase, collect feedback. Then fine-tune things and kick off the next phase.
This is the part of the rollout where you can inject some fun into the project, and where you can go live with greatness. Consider making your go-live into a true event and use simple marketing strategies to build buzz and excitement about the coming launch for weeks in advance.
Include key communication milestones in your marketing strategy. For example, make sure that the entire company gets an official communication on the day of the launch, as a Chatter post or email from your executive sponsor, VP of Sales, or CEO.
In Lightning Experience, you have the ability to focus the layout of the screens differently based on different personas accessing the same object. You may have sales leaders and deal closers. For sales leaders, you can see we have focused their page on reports and analytics whereas for the deal closer their page is focused on details. Lightning allows you to present the information that is most useful for your user, giving you the ability to customize the user experience. In doing so, the app will be more intuitive and give users what they want to see but you must be able to communicate this effectively based on each persona. This also impacts change management and improves adoption.
Example Lightning Record Page (Click to Enlarge)
Within the App Builder, you can many of the same things of what you could do in classic, with more features!
Lightning apps let you brand your apps with a custom color and logo. You can even include a utility bar and Lightning page tabs in your Lightning app.
Page layouts are still page layouts
Actions are still on the page layouts
Fields are still controlled by FLS and the Page layout settings
So if your content/fields are not changing, those items will be there waiting for you
You can just do some tweaks to the standard lightning page to put chatter on the right or left for example.
To really bring it home though, we need to make a successful transition for your users.
Rolling out Lightning Experience could take you anywhere from a couple of weeks to a couple of months. The time it takes can depend on several factors, including the complexity of your organization, the size of your user population, your company's approach to change management, or if you're a new customer implementing Salesforce. In any project, you need to be flexible either on the go-live date, the scope, or the resources allocated.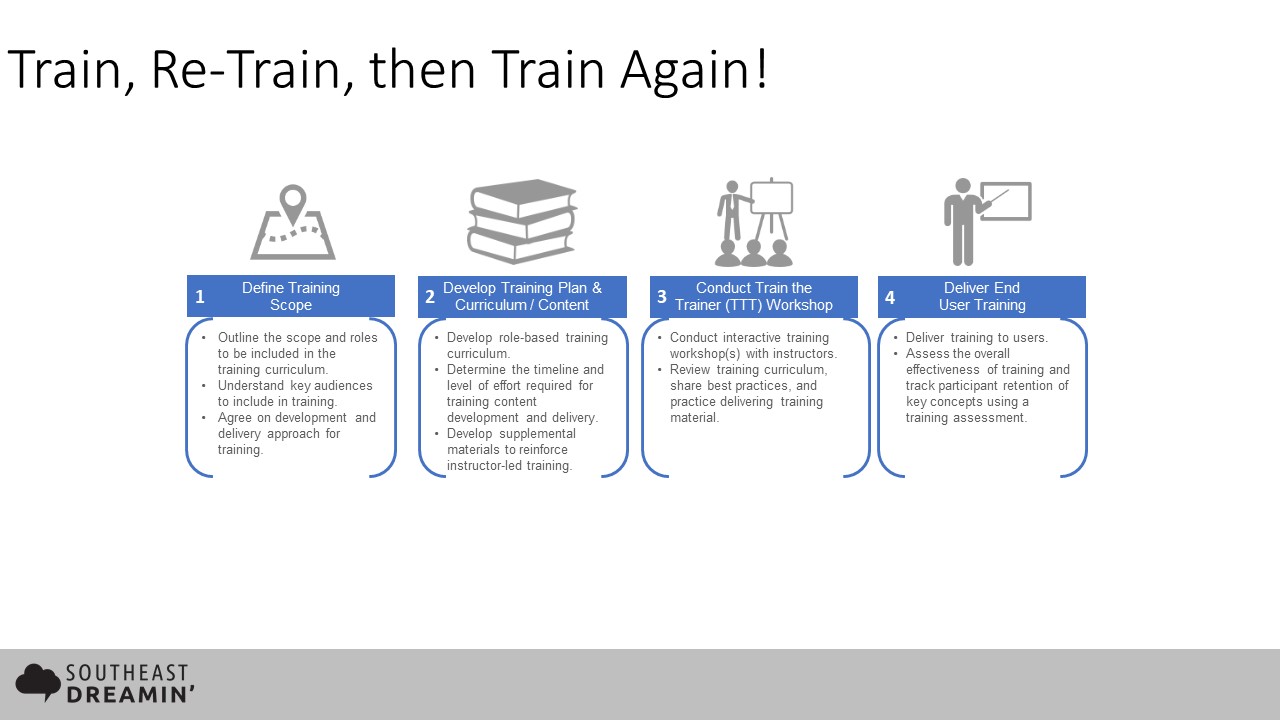 As part of your rollout, prepare your users for the changes in their user experience.
There may be generic training about the look and feel, but persona-specific training (where you go into how each persona works in Lightning) may be more appropriate. With whatever approach you decide, remember how you deliver training – virtual or in-person – is as important as what you deliver.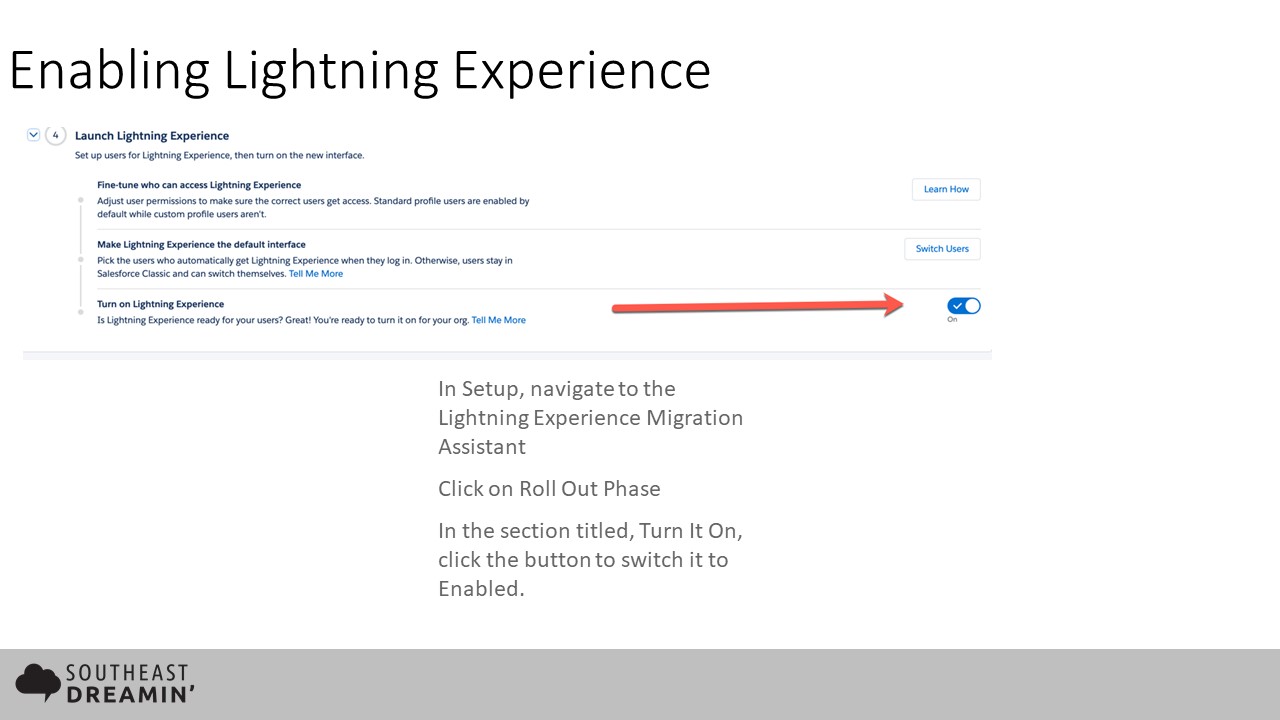 Once ready, navigate to the Migration Assistant and Turn It On.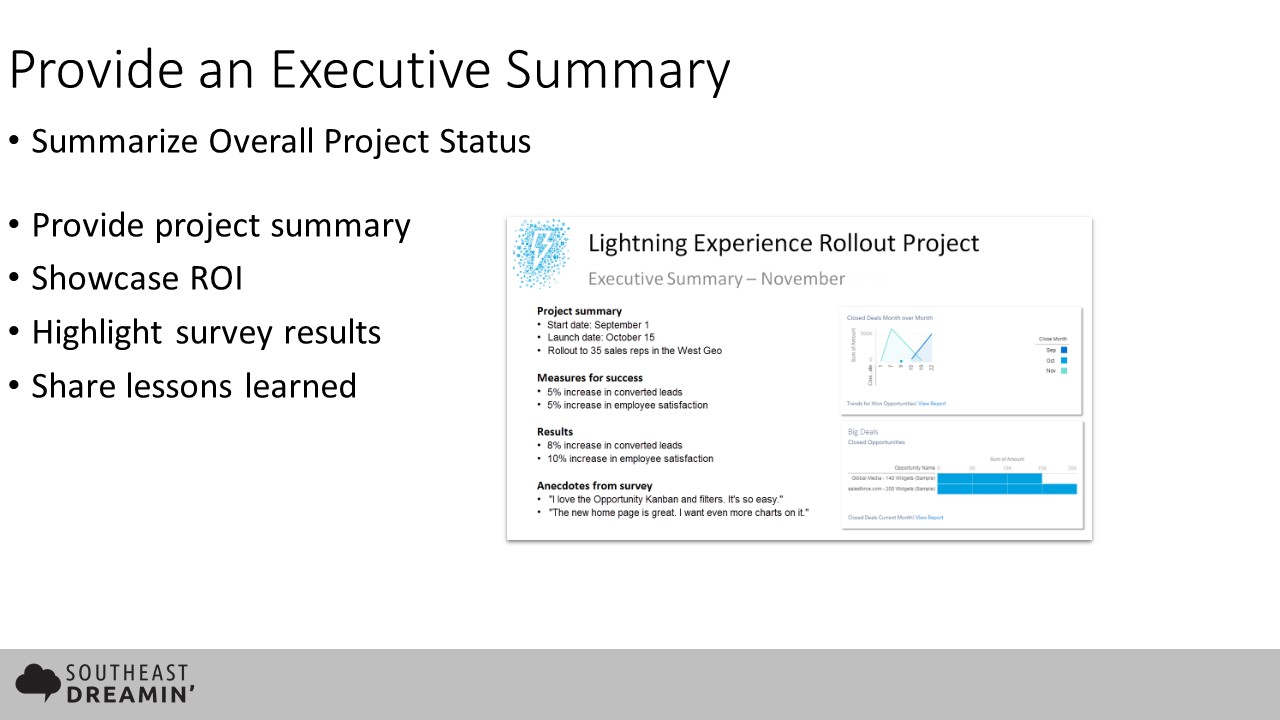 Your Executive Sponsor has been your project champion from the start. Now it's time to prepare a summary for your sponsor on the overall project status and any results you're able to share. This is important for your Executive Sponsor to be able to showcase Return on Investment (ROI) for the resources that were allocated to complete the project.
When you're preparing an executive summary, follow these best practices:
Keep it to 1-2 pages maximum.
Showcase metrics and results.
Highlight any noteworthy anecdotes.
Share lessons learned.
Note any next steps still planned.
Looking for a sample Executive Summary document? Check the enablement pack.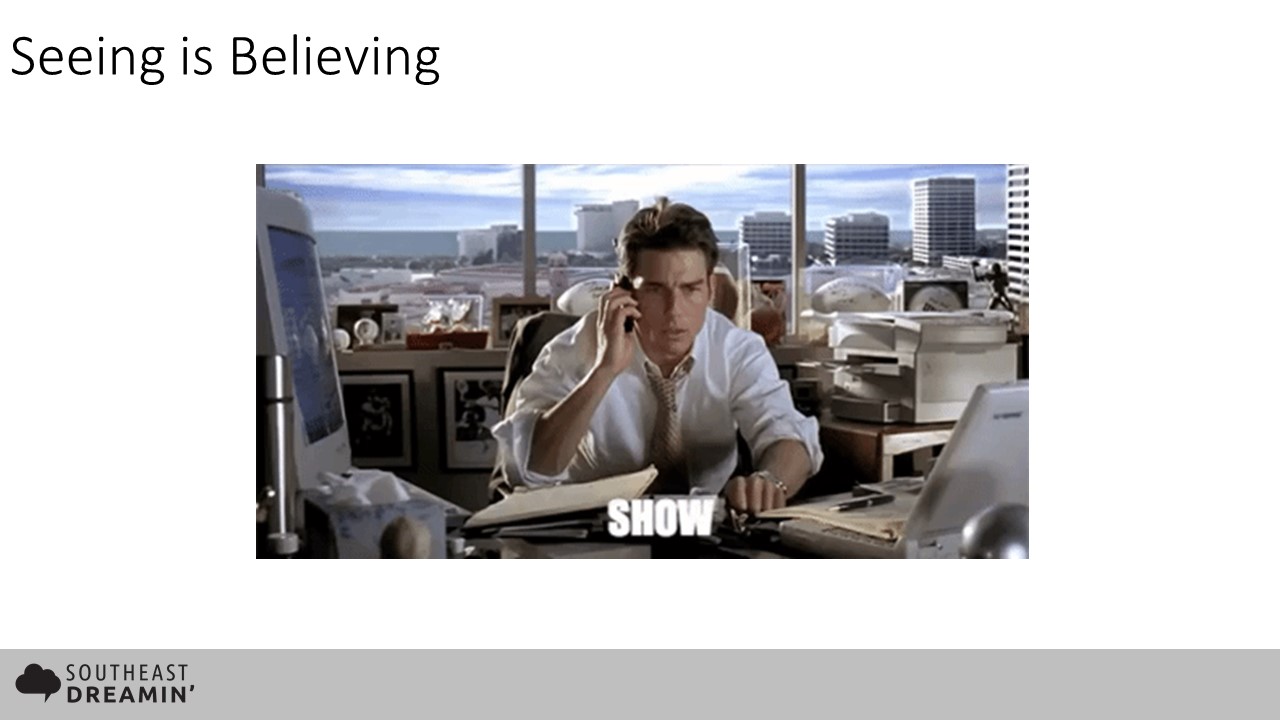 Some quick wins for implementing Lightning include:
Homepage and components
Path on leads
Kanban Opps
Report Builder
Dashboards
Think about where you've been, what you've done, what you've built.
Now you need to measure this KPI's, metrics, etc.
And now you can learn how to apply that to the next iteration.